Satanic Planet album release: Hosting The Satanic Estate's virtual party, May 28! Lucien Greaves, Justin Pearson, Luke Henshaw panel.
I've been kickin' it with The Satanic Temple lately, and have some devilish news.
On May 28, I'm hosting the Satanic Planet virtual album release party at The Satanic Estate! (Please join me — tickets are by donation.)
Hang with me on May 28th to hear the devil's music — Satanic Planet's highly-anticipated first album comes out that day. We'll be celebrating with special videos, musical previews, rituals and more.
Satanic Planet is the "dark musical soundscape collaboration featuring Luke Henshaw, Justin Pearson, Lucien Greaves, and Dave Lombardo." Tracks include Baphomet, Exorcism, Liturgy, Grey Faction… The debut album spans a wide gamut of Satanic soundscapes ranging from bone-chilling dissonance, to snippets of children's voices, to messages revealed when songs are played backward!
I'll be hosting the release party online – May 28, at The Satanic Temple's Virtual Headquarters (The Estate). I'll be doing a panel interview with Satanic Planet's members Lucien Greaves, Justin Pearson, and Luke Henshaw. You'll also experience a Satanic Unbaptism with Shiva Honey and more… My Tokyo Pirates Naomi Rubin and Yukiro (drag queen Die Schwarze Frau) are creating scandalously Satanic videos to four songs as well!
Get tickets now for the Satanic Planet album release event at The Satanic Estate (they're by donation) — and see you May 28!
To get you in the mood, here are some outfit photos featuring items from The Satanic Temple's shop. (Proceeds from merch sales go to their campaigns to uphold reproductive and LGBT rights, and maintain the separation of church and state).
I'm feeling cozy in my TST purple logo hoodie, which features the sigil of Baphomet (The Satanic Temple's goat head figure and pentagram logo) in my signature color. The adjustable hood and large front pockets make this hoodie both stylish and sensible.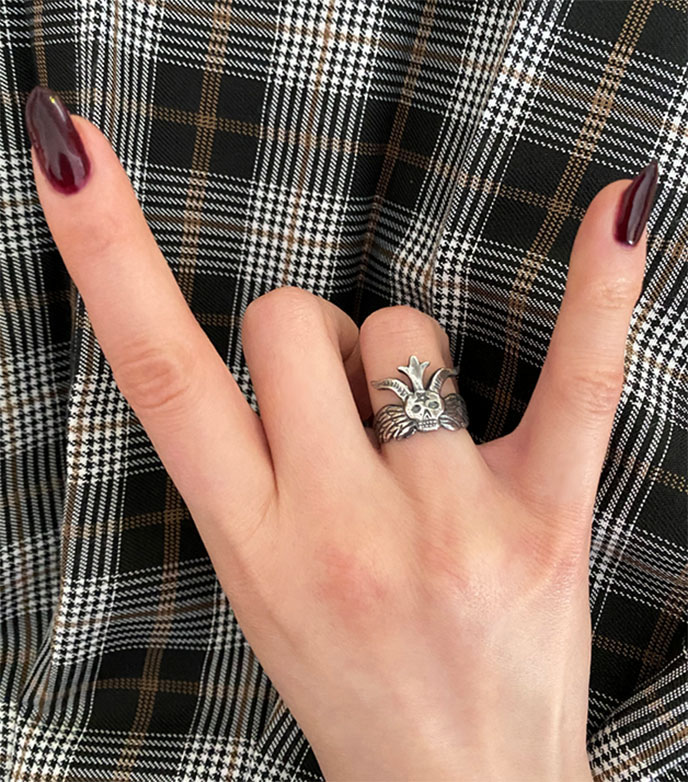 Giving the devil horns hand signal, in my The Satanic Temple Winged Crowned Skull Logo Ring. It's designed and hand made in silver by Kate Hockstein of Arcana Obscura. The ring comes in a range of unisex sizes, and has TST's Salem tombstone skull logo (it looks like the ones I saw in Salem's graveyard.)
I am also wearing a schoolgirl-style tartan skirt by Ninja Cosmico. platform sneakers by Anthony Wang Shoes, and a blue headband by Jennifer Ouellette,
I'm wearing Japanese-style socks, which can be scrunched down as Harajuku girls did in the 90s. These fun accessories are by Sock Dreams; all their legwear comes in a variety of sizes and colors.
The Satanic Temple Shop carries a variety of Gothic products, from candles to hot sauces and kitchenware, in addition to membership cards, certificate, and clothing. I'm rifling through my "I am a Friend of Satan" tote bag, designed by co-founder and spokesperson Lucien Greaves. (More TST fashion features to come soon).
Lucien Greaves also designed this TST Satanic Citizens t-shirt, which has 666 — mark of the beast — in 4-bit binary numbers. The shirt is printed on soft black, and comes in unisex sizing. As always, all proceeds support ongoing Satanic Temple campaigns.
For more about the band Satanic Planet, see my interview with LG for Riot Fest. And please join us at the Satanic Planet album release party at The Satanic Estate (tickets by donation, more info at the website. See you May 28!
PS: just wanted to share a recent interview I did with InsideHook. I'm passionate about researching how people around the world express themselves through alternative beauty and body modifications. I was interviewed about the art of adornment worldwide, for this article; we discuss neck rings, scarification, and other meaningful extreme body mods.